Record cold produces record number of calls at Mission Valley Power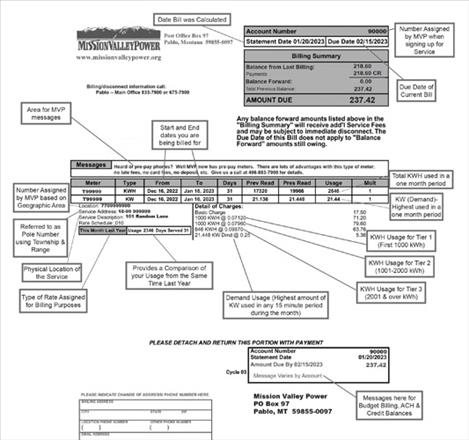 News from Mission Valley Power
LAKE COUNTY — The average coldest month in Montana is January with typical weather temperatures ranging from a low of 15 degrees to a high of 55 degrees. The lowest recorded temperature was -43 in 1936. Yet this past January saw temperatures that set new records for cold weather. As a result, many MVP customers saw record bills.
These record bills were a consequence of the record cold weather and a recent rate adjustment. For example, on Jan. 30, the maximum temperature was 5 degrees and the lowest temperature was -11 F according to Missoula weather history, KMSO. These cold weather extremes cause havoc with budget billing and monthly billing statements. As a result, MVP customer calls are high with most customers wanting an explanation of their bills. An explanation image is attached to the ___right?__.
Mission Valley Power has many payment options for customers including the following:
1. Pay by Mail – Mail the bottom portion of the bill. Please allow time for your payment to be received by the due date. Write your account number on the check/money order.
2. Pay in Person – Payments can be made in person at the Pablo Office Monday thru Thursday 7 a.m. to 5:30 p.m.
3. KIOSK – Located in Arlee, Hot Springs, and Ronan Valley Banks. MVP Office in Pablo. Kiosks are available 24/7 and all payments post to the account immediately. (We will have a tutorial soon on how to use the KIOSK, look for updates on our website and Facebook page)
4. Recurring Bank Draft – Your payment is drafted from your checking/savings account each month. You still receive a monthly statement and your payment is always on time. Call our Pablo Office at 406-883-7900 for more information and signup.
5. Recurring Credit/Debit Card – Your payment is charged to your Visa or Master Card on a monthly basis. You still receive a monthly statement and your payment is always on time. Call our Pablo Office at 406-883-7900 for more information and signup.
6. E-Bill – Pay and view your account information online any time. Go to www.missionvalleypower.org select "Pay Bill Online", select Smarthub Portal, then follow the prompts. Make sure to have your bill handy for the signup process.
7. E-Bill Quick Pay - is available so you don't need to go through the signup process. Go to www.missionvalleypower.org, select "Pay Bill Online," then select "Quick Pay Now Link," and follow the prompts.
8. Valley Banks – Payments can be made at all Valley Banks locations in our service area. Be sure to have your account number with you when making a payment. As a special reminder: When using this option a payment can take up to three working days to post to your account. Plan ahead so your payment is on time.
9. Smart Phone – Look for the Smarthub app with your smartphone. Once downloaded follow the prompts for signup. You can now pay your bill wherever you are with your phone, be able to view usage information, and receive alert messages.
10. Pay by Phone – Credit/Debit Card (Visa/Master Card) payments can be made by calling 406-883-7900 or 1-877-779-7947.
With so many automated billing options, MVP is removing the drop boxes at the following locations:
- In Polson: Natural Resources Office on Main Street, Super 1 Foods, 1st Interstate Bank Drive Thru and Eagle Bank Drive Thru.
- In St Ignatius: Old MVP Office
Customers are always welcome to come into the utility to speak to a Customer Service Specialist. Payment arrangements can be made to accommodate delinquent balances to avoid disconnect.