Couture, Marengo win South Dakota gold in table tennis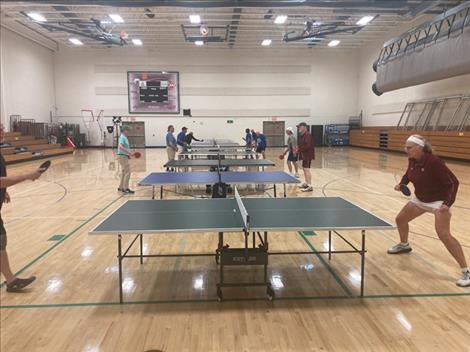 Photo by Bryan moser / Rapid City South Dakota News
News from Bryan Moser, Rapid City South Dakota News
PIERRE SOUTH DAKOTA — Teammates Ron Couture of Ronan and Monty Marengo of Polson brought back five gold medals from the 2023 South Dakota Senior Olympics' played on Sept. 7 in Pierre, South Dakota.
Couture won the singles (ages 54-58 age group) round robin tournament play with a 2-1 record and teamed up with Marengo to also win the tournament men's doubles play. It was the first of many tournaments for Couture who stated he will also play singles and doubles next August in Cheyenne, Wyoming, senior games.
All 50 states have senior Olympics games starting at the age of 50 plus and in most cases offer over sixteen sports from pickle ball, tennis, table tennis, basketball, golf, track and field among ten other sports. Top three in each state quality for the national games played every two years.
Marengo won the coed doubles with female partner Marva Graves of Rapid City, South Dakota, and men's doubles with Couture also in round robin play (games playrd are best of three games to eleven). Marengo also won the single bracket against two-time South Dakota State champion Curt Pochardt of Rapid City. All three games went overtime with Pochardt winning the first game 14-12, and Marengo winning the final two games 14-12 and 12-10.
It was the first of four state championships Margengo has won: Montana state champion 2007 and 2008, Idaho (2009), Arizona (2013) and South Dakota 2023. For both Couture and Marengo it was a trip about great experiences and meeting great players. Couture added he was "surprised about the quality of play among older players in their early 70s and beyond."