Erickson sentenced for felony charges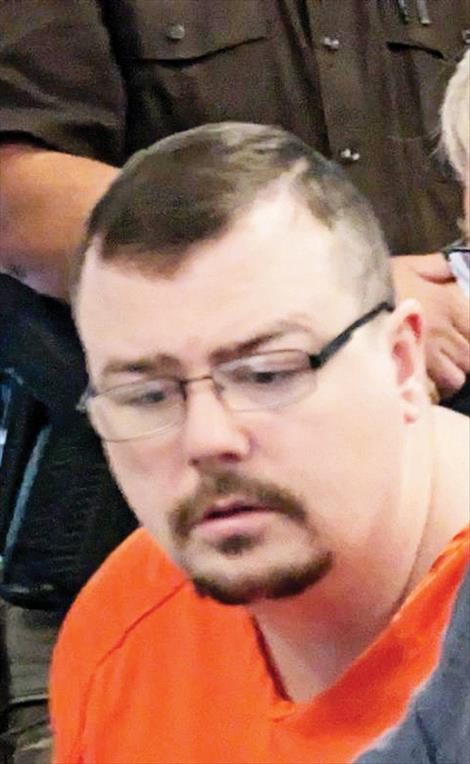 POLSON — A Polson man was sentenced in Polson District Court July 27 to the Montana State Prison for a total of 60 years on underlying felony charges of criminal mischief and threats and other improper influence in official and political matters. The sentence will run consecutive to a 26 year prison term handed down in a separate matter.
According to court records, the criminal mischief charge was filed against Tyler Frederick Erickson, 29, after a District Court appearance Dec. 1, 2021. On that day Erickson flipped over a table in front of Judge James Manley causing damage to an audio system. He then broke a flat screen used for video conferencing when he elbowed it in anger. He was brought to a holding cell where he was able to remove a belly chain and used the chain to break two cameras in the cell. He then made threats to jail staff unless he was placed back in the general population. He continued to threaten harm to jail staff unless his demands were met. However, Erickson's legal troubles began long before 2021. His first adult criminal conviction occurred in 2014 stemming from a pair of drug possession charges filed in 2013. In total Erickson racked up 7 separate criminal cases against him that included charges of assault on a peace officer. It took prosecutor Ben Anciaux with the Lake County Attorney's Office approximately four hours to cite Erickson's history of behavior and criminal activity while in custody and the burden he has caused to the judicial system. custody and the burden he has caused to the judicial system. Anciaux also played a video showing examples of Erickson's outbursts while in custody. The report of violations is 59 pages long. Erickson is the longest serving inmate of the Lake County Jail.
Judge Deborah "Kim" Christopher gave Erickson credit for having served 798 days in the Lake County Jail as of his sentencing on July 27.