Lundeen awarded 'School Resource Officer of the Year'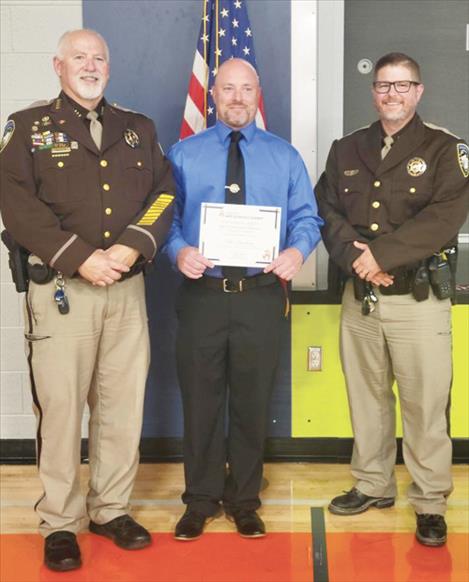 News from the Jeremy Bullock Safe Schools Summit
HELENA — The second annual School Safety Recognition Awards ceremony was held on Aug. 9 during the fourth annual Jeremy Bullock Safe Schools Summit. The School Safety Recognition Awards are part of the Summit's effort to help promote school safety. Individuals, schools, organizations, and youth all play an important role in these efforts and the awards allow for acknowledgement of the dedication, commitment and hard work put into striving for safer schools in our communities.
The 2023 recipient of the School Resource Office of the Year award was Polson School District #23 School Resource Officer, Nate Lundeen, of the Lake County Sheriff's Office. Nate Lundeen is an exceptional School Resource Officer with decades of experience serving Lake County.
Throughout his career, Nate has demonstrated an unwavering commitment to professionalism and maintains an impeccable reputation with colleagues, educators, students, and the community.
Nate's passion for safety and community involvement is evidenced by his active participation in local, school, and community events and organizations. He utilizes his exceptional ability to discover and leverage appropriate resources to enhance school environments, ensuring safety not only for the Polson School District but for all districts in Lake County.
In addition to his school resource duties, Nate works closely with Youth Court staff, providing an extra layer of support for high-risk youth. He sits on multiple community committees, including the Child Interdisciplinary Team, Youth Placement Committee, School Safety Team, and additional community programs.
Nate's skilled conflict resolution and resourceful approach in enhancing school environments make him a deserving SRO of the Year.
The Jeremy Bullock Safe Schools Summit was established in memory of Jeremy Bullock and his tragic death at the Margaret Leary Elementary School in Butte on April 12, 1994.