Musician co-op brings in musician to teach songwriting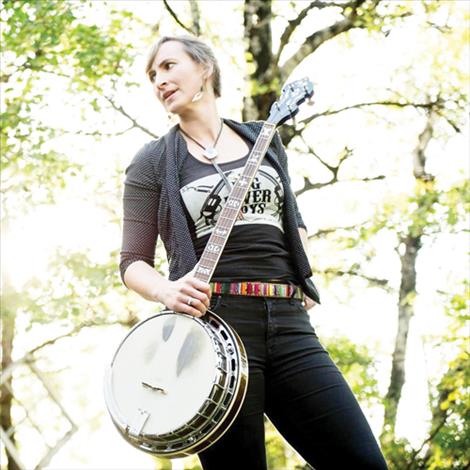 RONAN — The Western Montana Musician's Co-op had their fourth songwriting workshop on Saturday, part of their SongMT series open to all.
The songwriting workshops are open to all and invite those curious about learning to write songs to come and collaborate with a special guest musician and other participants. This workshop's special guest was Eliza Mary Doyle, an award-winning banjo player from Saskatchewan, Canada.
"We've had some really great songwriters come and teach our previous workshops," the Co-op's Charlie Davis commented. "We feel pretty pleased that our little musician's co-op is going to have someone of her caliber."
Doyle ended up attending thanks to co-op member Lydia Conway, a fiddle and guitar player and teacher. According to Davis, Conway and Doyle had played music together in Colorado and Doyle expressed interest in participating in SongMT. "I said 'wow, if she's willing to come here then yeah, that'd be great,'" Davis laughed. A member of the Canadian bluegrass band The Dead South, which won the Juno award for one of their albums in 2018, Doyle was on tour back east before heading toward Montana.
A typically small and intimate event, this workshop had around ten people in attendance, a few more than previous events. "(The workshops) kind of sprung from the idea that there's several of us in the area that would like to learn how to write songs, or, already write songs," Davis explained. "(It's) kind of a way for everybody to get together and collaborate and for some newbies to learn things."
Anyone interested, even those who aren't the most musically inclined, are welcome to come and learn at the co-op events. Davis shared that last year, a friend who was staying with them, who had never played an instrument or written a song, first began learning ukulele from her, then decided to attend the workshop. "He'd never written a song in his life, but he wrote two or three songs," Davis said. A couple of his songs are even being tweaked to be incorporated into the act for the Late Bloomers band. "I even wrote a little song. It's not much, but it's the first time I'd ever done anything like that before."
After the workshop, songwriters were invited to perform their song in a showcase if they so desire. Then, with some help from Conway, Doyle gave a concert to those who attended for only $10 each. While the cover charge is new, it helps the cooperative pay for quality songwriters to come and offer their time and effort to workshop attendees, along with help from sponsors Western Montana Dentistry and Glacier Bank of Ronan.
"We were pleased to get (the community) involved and get some support from some local businesses," Davis stated. "It's a great opportunity … Anybody that shows up is welcome, we're not going to turn anyone away."
To sign up for the next SongMT workshop, or to see other events coming up in the co-op, visit their website at: MTmusic.org or visit their Facebook page at: www.facebook.com/groups/WMTmusiccoop/